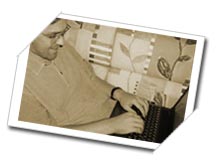 Sasa Kulic, Toronto Web Designer
205 Cosburn Ave. #1014
M4J 2L4
Toronto, Ontario, Canada
Phone: 416-465-2189
Cell: 416-262-4417
Email:
Web: www.sashadesign.com
Objective
As a web designer and developer, my objective is to make a positive impact on clients, co-workers, and the Internet using my skills and experience to design compelling and attractive websites. I enjoy working on projects that involve a mix of web and graphic design, web development, database management and programming.
Skill Set
Scripting/Programming
HTML
JavaScript/DHTML
CSS
PHP
ASP
XML
Perl
Java
Tools
Adobe Photoshop and ImageReady
Adobe Illustrator
Macromedia Flash
Macromedia Dreamweaver
Sound Forge
Web Servers: eg. Microsoft IIS and Apache
Microsoft Office
FTP clients
Database
MySQL
MS Access
MS SQL Server
General Skills
Responsible and eager to learn.
Strong interpersonal communications skills.
Adaptive to new applications and technologies.
Extensive knowledge of all technical areas involving web design, web development, and maintenance.
Reliable, motivated, hardworking and attentive to details.
Work History
All websites listed below were completed by me or the team I was part of.
05 2003 - Current
Clue Design, Toronto, Canada
Co-owner / Web Designer / Developer
Below is a selection of the most recent projects
08 2002 - Current
Trivedi Communications Inc., Toronto Canada
Web Designer / Developer
07 2002 - 08 2002
EcomBcom Inc., Toronto Canada
Web Designer / Developer
05 2000 - 07 2002
Travelinx Inc., Toronto Canada
Web Designer / Developer
03 1999 - 05 2000
Freelance
Web Designer / Developer / Consultant
01 2001 - Present
I have been developing my personal web site at: http://www.sashadesign.com
SashaDesign.com is a fully dynamic data-driven modern web page that reflect the ever increasing usage of standard XHTML and CSS 2 to deliver higher fidelity web pages. It is laid out using CSS positioning as opposed to tables.
During this period of time I have been involved in two other projects:
Education
Computer Science - York University, Toronto Ontario
Multimedia Designer Certificate - SAE Institute Berlin

Other Information
I fluently speak four languages: English, German, Italian and Serbo-Croatian.
I am a passionate chess player, among top 100 on Canadian Chess rating list.
References Available upon request.